Those who have been following my blog will know, I tend to write very little about my kids and my daily life as a SAHM. Surprisingly it's much easier for me to be honest and write about the
hardships
in my life and in my marriage and what the Lord is teaching me through everything, than it is to write about my life as a stay at home mom and my oh-so imperfect "mothering skills".
(Insecure much?!)
So... this in itself is a big step for me; which in turn is why I really wanted to do it.
First, I want to thank
Karen
for choosing me to be a guest blogger today on her "Life of a Stay at Home Mom" series. I'm excited to be part of such a great group of women writing for this series and I hope that you all have gotten a lot out of what she has been doing! I know I sure have!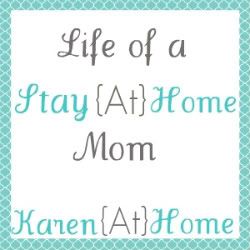 So if you have a second today on this busy holiday, take a second and go on over there and read more about how I have been blessed enough to be a stay at home mom. This was big for me to write so I hope you all enjoy it! :)